Pulled in last night from our tour of Idaho, it ended up being a good trip. We began in Bozeman, MT and headed down through Yellowstone with the intentions of going thorough the Tetons and camping somewhere in there and coming out at Jackson, but the road was closed until Friday. So we detoured over to Rexburg and cut across to Craters of the Moon and spent the night there. Luckily it was about 10:30 when we pulled in and I didn't see how desolate it was until the next morning. Did a couple quick tours since we were there and continued on to Nampa. Stayed with Wildgoose (thanks a bunch!!) and managed to get some night wheeling in on Thursday with Wildgoose and Mighty Mouse. Did a quick run up through Meat Grinder. The next day (Thursday) Spinach, Wildgoose, and I headed for a quick ride through Carnage canyon. Both trips were awesome with no major trail damage. I just managed to mangle my Planet4x4 sticker on got some rock rash on one of my flares. It was a toss up between the most damage flare between the rock rash and the Wildgoose Carnaged flare. (You'll have to ask him on that one) Both great trails, and now I realize how much I missed the surrounding areas there. Saturday we headed up through Stanley (never stop there for gas, 3.50/gal!!) and camped out in Salmon. We finished the trip by going over Chief Joseph Pass, Big Hole Battlefield, and Virginia City. All in all, it was a great trip! Had the GPS going the length of the trip, the little B2 managed to do over 1200 miles and a total accent of over 38,000 ft. I was very impressed. With the tires and gears I managed to pull about 16mpg (a lot better than expected). Well, now on to the pics of the couple of trail runs. I have a few, and I'll try not to bore you with the rest of the trip.
My girlfriend took all these pics, and some turned out real well.
I was looking through a Crawl magazine and shot a quick comment on how cool some of the pics in the mag turned out. On the trail I jokily brought up the magazine and asked her if she was taking magazine quality pics.
She quickly shot back "Is your rig a magazine quality rig?"
That was the end of that conversation…
On with the pics
Meat Grinder night wheeling (the light wasn't perfect so some pics turned out a bit blurred)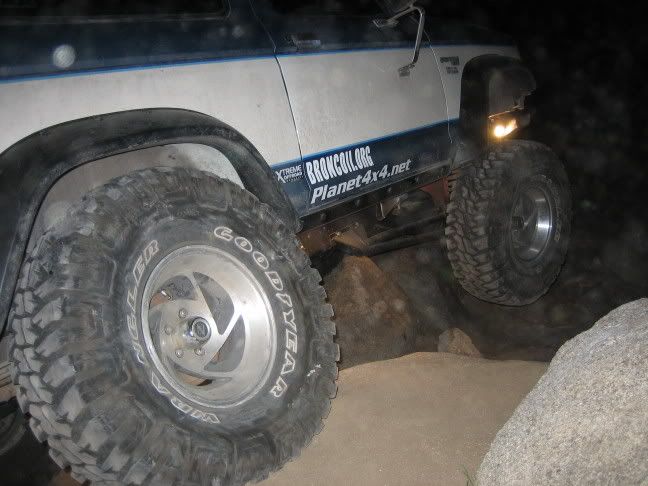 Wildgoose walking up the waterfall.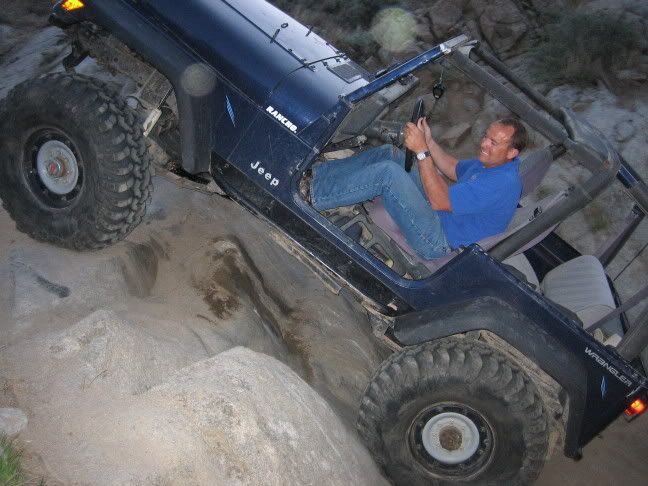 Me getting denied on the waterfall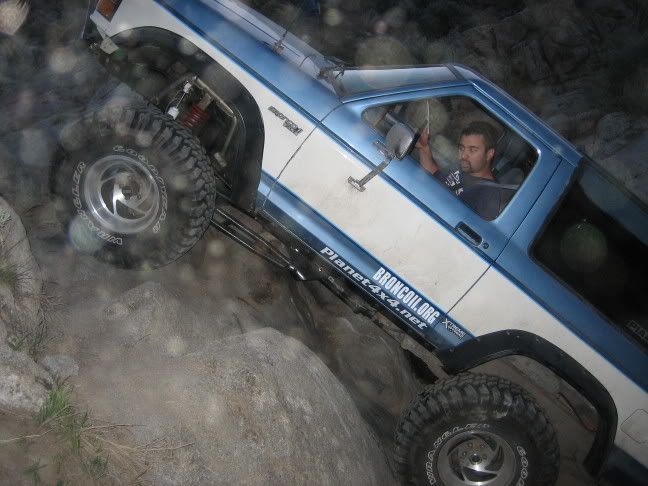 Getting a little air time.